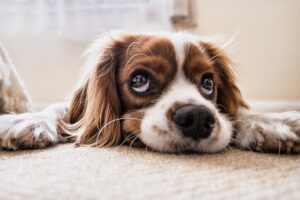 If you've decided to add a furry friend to your family, you're in for a treat. Congratulations on the decision. Adding a dog to the family can make for a great addition. They make the best companions and they can be very easy to integrate into the mix.
In this article, you will learn some of the tips and tricks that you should know as a first-time dog owner. Whether it's choosing between an adult dog or a puppy, training your dog, or even choosing the name for your dog – you can use the checklist below to get started.
Things You Need To Get For Your Dog:
1. A comfortable bed
2. Food and water bowl
3. A lead: For leads, you have multiple varieties to choose from. You can choose a basic or traditional lead or a harness. A harness can be beneficial because it can ensure they don't get any unnecessary pressure forced on their necks if they pull.
4. Collar With Tags: It's necessary to get a collar with tags. You want your dog's information on the tags as it's a legal requirement for the UK.
5. Dog toys
6. Teething toys (For puppies)
7. Dog crate
Choosing The Right Dog Training Class
When you are just getting started as a dog owner, you're going to want to choose a dog training class. Taking your dog to a training class is one of the best things you can do to build up your relationship. This can help you have a place to build a relationship with your dog that is both structured and safe. Having a professional assist you is a good way to ensure that you teach your dog the basics. They will be able to advise you on what to do and what not to do. They will have the experience needed to ensure you train your dog as effectively as possible. This can make the transition of becoming a dog owner much easier for someone that's never trained a dog previously.
Before booking a dog training class, you might want to head to the centre and watch a class beforehand. That way, you can get a good idea of what to expect and some of the things you might need to bring. If you live in the Southampton area search 'pet sitting Southampton' to see results.
Look For a Good Class With:
– A friendly trainer
One of the key things you need to look for when choosing a dog training class is a friendly trainer. You want a trainer that interacts in a good way with both the other trainers and the dogs.
– Positive and Calm Atmosphere
You also want to look for a dog training class that takes place in a calm building. The last thing you want is to take your dog to a class full of other rowdy dogs. You want both the other dog owners and the other dogs to be calm at the place. This will set a good example for your dog and make the process much easier.
– Structured Environment
You want to ensure the environment is structured. No dogs at the place should be allowed to play uncontrollably. You want the trainer to have a good handle on the class. They should only take on as many dogs as they can handle.
– Reward-Based
You want to try to find a training class that utilises reward-based training methods. Try to avoid any place that punishes dogs or where there is harmful equipment being used on dogs. This can include chokers or electric collars.
Keep in mind, dog training classes aren't regulated. Because of this, you are going to find the level of quality differs considerably. Blue Cross only recommends taking your dog to a class where they use modern and science-based training methodology. These methods include rewarding dogs based on positive actions using treats and praise rather than negative reinforcement. Dogs respond much better to positive reinforcement and it can be a great way to build a better and stronger bond with your new dog.
Always avoid any trainer that uses aversive training tools and equipment. This includes pinch, choke, and electric collars. Also, you want to be wary of any trainer that pushes around dogs to try to get them to complete an action. These training methods can be harmful to your dog both physically and mentally.
We would personally recommend that you search for trainers and training schools on the Association of Pet Dog Trainers or Puppy School sites to find someone nearby. We have a variety of different dog training videos that you can check out and utilise when you are trying to teach your dog the basics.